Premium Single Leg Electric Desk is a Danish  is an elegant small computer table with electrical height adjustment
This table can be used as a small single desk, but it is also perfect
for arranging in groups (cluster) or great for corner applications.This adjustable-height desk frame is great for tight spaces or those with minimal desk accessories.
A good desk for multi-users, libraries or as an additional side desk.
It can easily be moved about because of the casters in the back
that comes as a standard. The casters can be locked to steady the desk when in use.The lockable wheels at the back of the desk make it easy to move and stable when in use, whilst 2 buttons requiring simultaneous pressing provides a safety function when adjusting.
 Max load on frame is 50 kg.
Frame height goes from 660 mm to 1180 mm (without table top).
Adjustable workstation is mobile with lockable casters
The frame is available in black or silver 
2 year warranty on motor
Tops available in either beech or white colour
Profiled and lacquered edges
Moderate assembly required
Top available in heart shape, rectangle, Trapez shapes to suite your office or home needs
Select the table top that fits you best and configure multiples as you want

The frame portion of the this  series is perfect for arranging groups and multiple desk combinations. Functionality is the priority for these frames and they work in union for excellent stability. Max load is 154 lbs per frame. Height travel is from 26" to 46" and the desks are perfectly suitable for wheels.


These  desks offer a healthy ergonomic solution for every desk user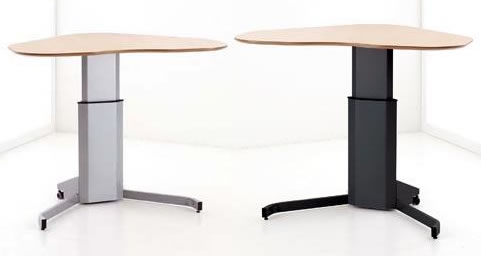 Over the past decade numerous research studies have shown that working from a sitting position for extended periods of time is clearly detrimental to your health, thus proving the benefits of using electric height adjustable desks.

Conclusions all point to the fact that changing between a sitting and standing position throughout your day provides clear health benefits and that while sitting smaller incremental changes also have clear health benefits. There is no perfect set height that an individual should remain at. Your body tells you to move throughout the day and you should listen to your body not a number. Additionally people wear different shoes on different days with different heel heights and some ergonomic floor mats can add nearly 2‐1/2 inches to your standing height shifting your body slightly but continuously as you work.

We  in what more and more ergonomists believe that "Your next height is your best height". This desk  offers different control panel options but never digital panels that show heights and have memory setting options. This is inconsistent with the philosophy of "Your next height is your best height" as well as adding unnecessary cost. Our desks complement your body and adjust to your specific needs.
  
see this table combine with salli stool in cation in below video